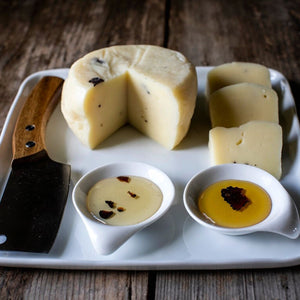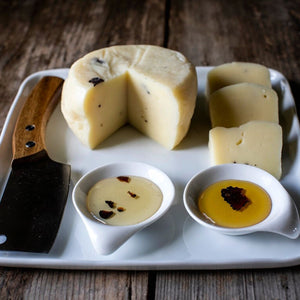 CHEESE WITH TRUFFLE FLAKES
A semi-soft Italian cheese made from a blend of pasteurized cow and sheep milk. The cheese is mild which allows the shavings of black truffle to dominate the flavor. 
After removing the crust  It can be used to flavor a variety of dishes. Grate truffle cheese over eggs, pizza, or pasta. You can also use truffle cheese in grilled cheese sandwiches and risotto or melt it into a fondue.

SHIPPING: only to Europe
Nome: Formaggio al Tartufo (200g ca. - 300g ca.). Ingredienti: LATTE vaccino, LATTE ovino, tartufo 1% (Tuber aestivum Vitt.), fermenti lattici, caglio, lipasi di capretto, sale, aroma. Trattato in superficie con: E235. Tmc: 180 giorni - Conservazione: Conservare in luogo Fresco (da 10° a 18° C) – in Sv 2/4°C. Allergeni: LATTE. Conservanti: E235. Non contiene GLUTINE, nè OGM. Prodotto da Giuliano Tartufi S.p.A., Zona Ind.le Sud 06026 Pietralunga (PG). 
Reference: 
FORMINA (200g), EAN 8025386003713
FORMBET (300g), EAN 8025386000606