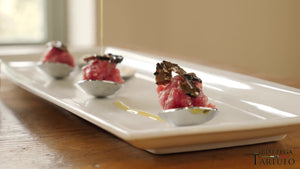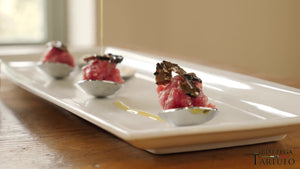 EXTRA VIRGIN OLIVE OIL WITH WHITE TRUFFLE SLICES
The unmistakable and persistent flavor of Italian white truffle to make delicious appetizers and to add an intense touch to first courses, meats, omelettes or cheeses. A few drops are enough to create a base for all your truffle dishes. It is perfect on a meat tartare!
Nome: Condimento aromatizzato al tartufo bianco a base di olio extra vergine di oliva con fettina (55-100-250 ml). Ingredienti: Olio extra vergine di oliva, tartufo bianco essiccato (Tuber magnatum Pico) 0,1%, aroma. Tmc: 24 mesi Conservazione: Conservare in luogo fresco ed asciutto e al riparo dalle radiazioni solari. Il prodotto non contiene sostanze allergeniche, nè conservanti, nè glutine, nè OGM. Prodotto in Italia da Giuliano Tartufi S.p.A., Zona Ind.le Sud 06026 Pietralunga (PG).
OLBF 55-100-250