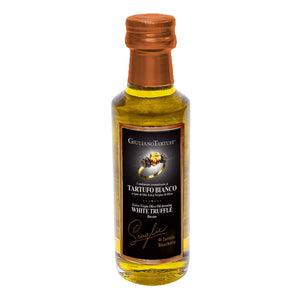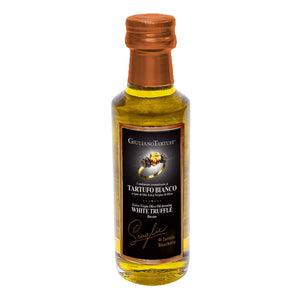 EXTRA VIRGIN OLIVE OIL WITH WHITE TRUFFLE FLAVOUR AND BIANCHETTO TRUFFLE SLICES
The perfect condiment for  all your recipes - the unmistakable and persistent flavor of white truffle , together with Bianchetto truffle slices, will give a boost of flavour to your dishes. 
Use it to make delicious appetizers or add an intense touch to first courses, meat, omelettes or pizza. Very easy to use, a few drops are enough to create a base for all your truffle dishes. It is perfect on a meat tartare!
Name: Extra Virgin Olive Oil Dressing White Truffle Flavour with Flakes of Bianchetto Truffle (55 ml/ 100ml/ 250ml)
Ingredients: Extra virgin olive oil 98,9%, dried Bianchetto truffle0,1% (Tuber Borchii Vitt.), flavour. Keep in a cool and dry place, away from light and heat. 
Produced by: Giuliano Tartufi S.p.A. Via dell'Ulivo 5-31, Zona Industriale Sud, 06026 Pietralunga (PG) - ITALIA.
OLBHF 55-100-250