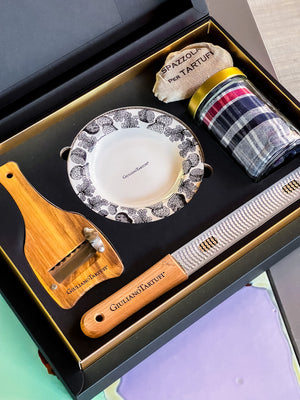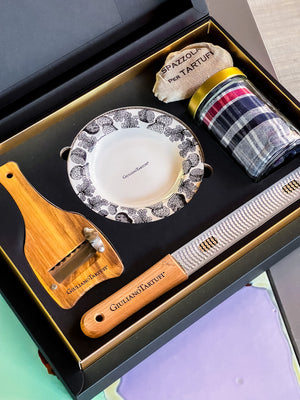 GIULIANO TARTUFI TRUFFLE TABLE SET
Love at first sight with the new Giuliano Tartufi Truffle Table Set, a perfect blend of elegance, style and tradition.
There's no better way to bring fresh truffles to your table and enjoy them during your social gatherings.
LIMITED EDITION - Be sure to grab yours!
The box contains:
- Giuliano Tartufi professional Truffle slicer;
- Giuliano Tartufi professional Truffle brush;
- Giuliano Tartufi handmade ceramic plate (made in Italy);
- Giuliano Tartufi long grater in steel and wood;
- a vase and a tablecloth.
 
(Fresh truffle NOT INCLUDED in the box)