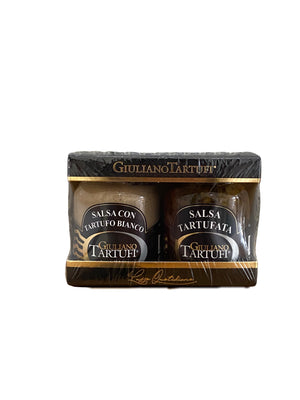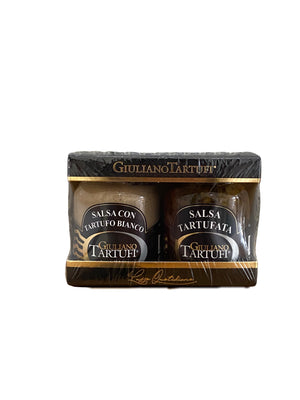 MINI2 SELECTION - Gift box
A tiny and cute gift box with two classic sauces which are very popular among our customers.
The perfect choice to introduce yourself and your loved ones to the world of truffle and La Bottega del Tartufo.
The set includes:
• Truffle Sauce 50 g
• Sauce with white truffle 45 g
Nome: Confezione regalo di 2 prodotti mignon. Ingredienti: SAT50 (SALSA TARTUFATA 50 g): Funghi coltivati (Agaricus bisporus), olio extra vergine di oliva, olio di semi di girasole, olive nere, Tartufo estivo 1% (Tuber aestivum Vitt.), sale, aroma.
STB45 (SALSA CON TARTUFO BIANCO 45 g): Funghi coltivati (Agaricus bisporus), olio di semi di girasole, olive verdi, Tartufo bianco 1% (Tuber magnatum Pico), sale, aroma, acido ascorbico: E300.
Tmc: 36 mesi. I prodotti contenuti nella confezione hanno scadenze diverse in relazione alla natura dell'alimento. La data riportata nella confezione si riferisce al prodotto che ha minor conservazione - Conservazione: Temperatura ambiente. Per le salse: una volta aperte conservare a +2° / +4° e consumare entro 7 giorni. Il prodotto non contiene sostanze allergeniche o prodotti contenenti tali componenti. Non contiene GLUTINE, né conservanti, nè OGM. Prodotto da Giuliano Tartufi S.p.A., Zona Ind.le Sud 06026 Pietralunga (PG). 
Reference: MINI2GT