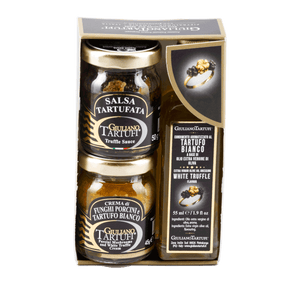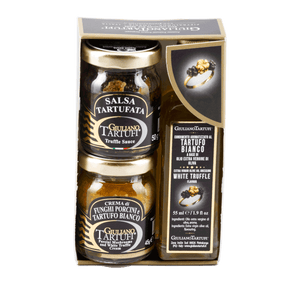 MINI3 BOX - 3 mignon products
A small selection of our best selling mini size products. A good way to approach the world of truffle.
It shares:
Porcini mushrooms and white truffle cream 45 g
Truffle flavoured extra virgin olive oil 55 ml
Nome: Confezione regalo di 3 prodotti mignon. Ingredienti: SAT50 (SALSA TARTUFATA 50 g): Funghi coltivati (Agaricus bisporus), olio extra vergine di oliva, olio di semi di girasole, olive nere, Tartufo estivo 1% (Tuber aestivum Vitt.), sale, aroma. OLB55 (Condimento aromatizzato al Tartufo bianco 55 ml): Olio extra vergine di oliva, aroma. PTB45 (Crema di Funghi porcini e Tartufo bianco 45 g): Funghi porcini 58.5 % (Boletus edulis e rel. gruppo), olio extra vergine di oliva, aroma, sale, Tartufo bianco 0,5% (Tuber magnatum Pico). Tmc: 24 mesi. I prodotti contenuti nella confezione hanno scadenze diverse in relazione alla natura dell'alimento. La data riportata nella confezione si riferisce al prodotto che ha minor conservazione- Conservazione: Temperatura ambiente. Per le salse: una volta aperte conservare a +2° / +4° e consumare entro 7 giorni. Il prodotto non contiene sostanze allergeniche o prodotti contenenti tali componenti. Non contiene GLUTINE, né conservanti, nè OGM. Prodotto da Giuliano Tartufi S.p.A., Zona Ind.le Sud 06026 Pietralunga (PG). 
Reference MINI3E