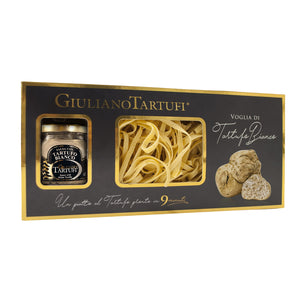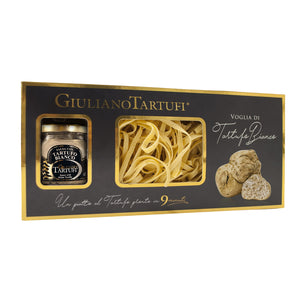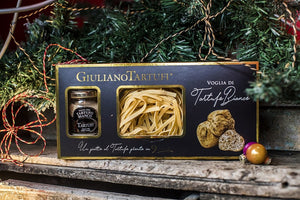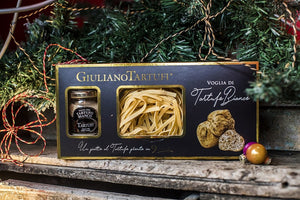 VOGLIA DI WHITE TRUFFLE - 2 products
The essenial pasta box containing:
White truffle cream 45g
Tagliatelle with white truffle 250g
Nome: Voglia di tartufo bianco. Prodotti e Ingredienti: TAGTEL (TAGLIATELLE AL TARTUFO BIANCO 250g): Semola di GRANO duro, UOVA 23%, Tartufo Bianco 0,4% (Tuber magnatum Pico), aroma, sale; STB45 (CREMA AL TARTUFO BIANCO 45 g): Funghi coltivati (Agaricus bisporus), olio di semi di girasole, olive verdi, Tartufo bianco 1% (Tuber magnatum Pico), sale, aroma, acido ascorbico: E300. Tmc: 36 mesi, I prodotti contenuti nella confezione hanno scadenze diverse in relazione alla natura dell'alimento. Conservazione: Temperatura ambiente. Per le salse: una volta aperte conservare a +2° / +4° e consumare entro 7 giorni. Allergeni: Il prodotto TAGTEL (tagliatelle al tartufo
bianco) contiene sostanze allergeniche: GLUTINE e UOVA. Non contiene conservanti, nè glutine, nè OGM. Prodotto in Italia da Giuliano Tartufi S.p.A., Zona Ind.le Sud 06026 Pietralunga (PG).
Reference: VTB1