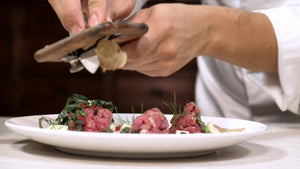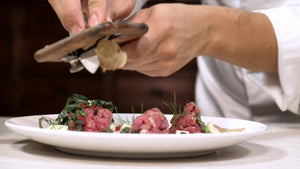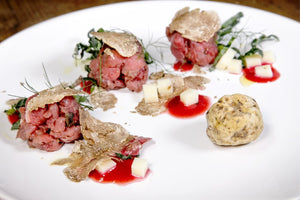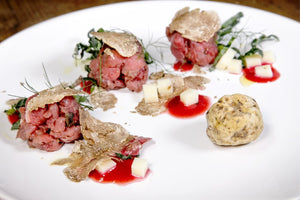 WHOLE BIANCHETTO TRUFFLE
The scent and flavor of the bianchetto truffle in its maximum expression and naturalness.

This product is natural and is ideal for finishing appetizers and first courses. In the jar you find whole truffles, which we always recommend cutting into slices or grinding with the grater, the liquid or government brine that should never be thrown away.
The suggested quantity is 10/15 grams of truffle per person.
To prepare a first course, we suggest putting the truffle (sliced or grated) in the pan, sear it quickly with extra virgin olive oil or butter, add salt, pepper and Parmesan according to your taste. After draining the pasta, pour it into the pan and stir for a couple of minutes, adding the brine inside the jar. 
Perfect to make a super delicious gourmet tartare! 
Nome: Tartufo bianchetto intero (25 g). Ingredienti: Tartufo bianchetto (Tuber Borchii Vitt.), acqua, sale. Tmc 36 mesi - Conservazione: Temperatura ambiente. Una volta aperto conservare a +2° / +4° e consumare entro 7 giorni. Allergeni: non contiene sostanze allergeniche. Non contiene glutine, nè conservanti, nè OGM. Prodotto in Italia da Giuliano Tartufi S.p.A., Zona Ind.le Sud 06026 Pietralunga (PG).
Reference BH.I 25