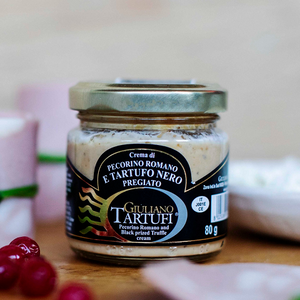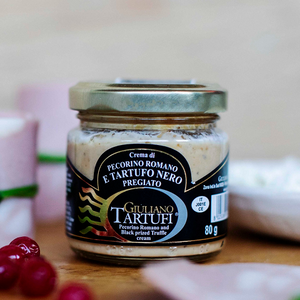 BLACK PRIZED TRUFFLE CREAM & PECORINO CHEESE
For those who love truffles and cheese, this cream will be a real treat for the palate. Original Pecorino Romano and black prized truffle will be the winning combination for your truffle recipes. You can use it directly to create first courses of pasta, make deliciuos sandwiches or use it as a dressing for meat dishes.
Try our recipe! Mortadella rolls with truffle.
Nome: Crema di pecorino romano Dop con tartufo nero pregiato (80 g). Ingredienti: PANNA, Pecorino romano DOP (31,7%) (LATTE, sale, caglio), LATTE intero, BURRO, Tartufo Nero Pregiato 2% (Tuber Melanosporum Vitt.), Aroma naturale, Amido di mais. Tmc 36 mesi - Conservazione: Temperatura ambiente. Una volta aperto conservare a +2° / +4° e consumare entro 6 giorni. Allergeni: Il prodotto contiene sostanze allergeniche o prodotti contenenti tali componenti: LATTE. Non contiene glutine, nè conservanti, nè OGM. Prodotto in Italia da Giuliano Tartufi S.p.A., Zona Ind.le Sud 06026 Pietralunga (PG).
Reference: CPTN80