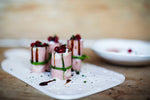 Small culinary works of art to prepare in few minutes: don't miss out!
To make our rolls of mortadella with truffles, let's start with the ricotta mousse.

We need 400 g of fresh ricotta, a tablespoon of truffle oil, a tablespoon or two of Truffle Cream and Pecorino Romano, a pinch of salt, pepper and chopped chives. Mix all the ingredients to create a creamy mixture. Pour the mousse into a pastry bag and leave it in the refrigerator. 
At this point we create the mortadella wrapper. Use the mortadella with pistachios and cut it into rectangular strips at least 3-4 millimeters thick. Roll up the strips of mortadella creating small cylindres and leaving enough space in the center, fixing them with a thread of chives all around.
We suggest! First tie the knot with the chives thread and then pass it around the rolled mortadella. Just a little attention and it's simple.
It's time to get the sac-à-poche from the fridge. Fill the mortadella cylinders with the ricotta mousse, add a few drops of truffle glaze, currant and chives icing.

Your super truffle aperitif is ready to be served!
 ENJOY IT!