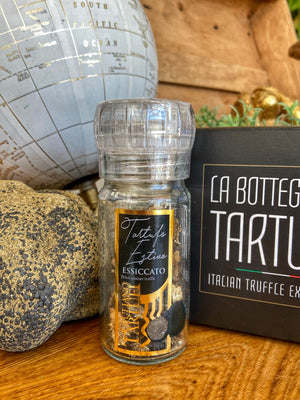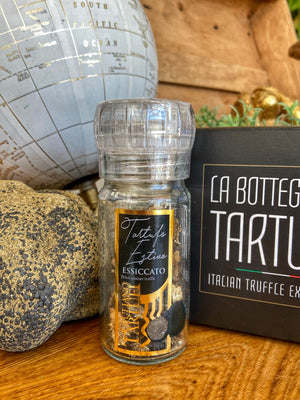 DRIED SUMMER TRUFFLE - GRINDER
Dried Summer truffle in slices, result of a natural process of dehydration. It can be used by itself to garnish your dishes or in combination with fresh truffle and sauces. 
The truffle for every occasion, for all your recipes, either for an appetizer, a first course, a second course, for eggs or pizza.
How to use:
Truffle slices need to be rehydrated. Rehydrate the dried summer truffle in 100 ml warm water for about 20 minutes. Filter and use the rehydratation liquid as well.
Have a look at our Shortcrust pastry with Truffles Recipe
Nome: Dried Summer truffle 99% (Tuber aestivum Vitt.), flavouring. KEEP IN A COOL AND DRY PLACE, AWAY FROM LIGHT AND HEAT.
Prodotto in Italia da Giuliano Tartufi S.p.A., Zona Ind.le Sud 06026 Pietralunga (PG)
Reference ESTSEC11