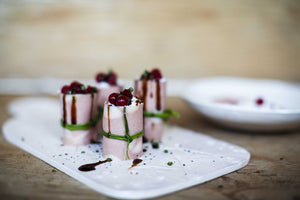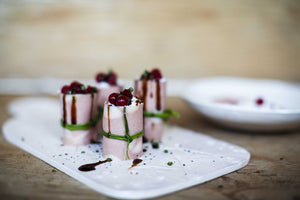 VOGLIA DI NERO - Glaze of Balsamic Vinegar with truffle
With its dense consistency, the balsamic vinegar glaze of Modena PGI flavored with truffles is ideal for decorating and garnish every type of dish. Its sweetness makes it perfect for grilled meats, grilled or baked vegetables, hamburgers, roast pork and chicken, fries, salad and as a dipping sauce. To taste also with cheese, caviar and seafood, strawberries and other fresh fruit, ice cream and cream.
Try our recipe! Mortadella rolls with truffle.
Size: 180gr
Nome: Glassa a base di "Aceto balsamico di Modena IGP" aromatizzato al tartufo (180 g). Ingredienti: Aceto Balsamico di Modena IGP 55% (aceto di vino, mosto d'uva concentrato), mosto d'uva cotto, amido modificato di mais, aroma. Tmc 36 mesi - Conservazione: Conservare in luogo fresco ed asciutto e al riparo dalle radiazioni solari. Allergeni: il prodotto non contiene sostanze allergeniche, né conservanti, né glutine, nè OGM. Prodotto in Italia da Giuliano Tartufi S.p.A., Zona Ind.le Sud 06026 Pietralunga (PG).
Reference GLT180