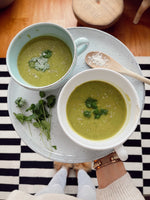 This anti-inflammatory veggie soup topped with coriander and Pecorino Truffle Powder prepared by our healthy-muse
Gogloow
is sooo gooood! ⁠
A veggie soup rich in nutrients, vitamins, minerals, antioxidants, to help you fight inflammation. The Truffle garnish will guarantee the yummiest taste, in a natural-healthy-delicious way.
INGREDIENTS:
3 zucchinis⁠
1 leek⁠
1 potato⁠
1 onion⁠
Olive oil⁠
1 or 2 tbs of turmeric⁠
1tbs of ginger⁠
Half a cube of organic chicken broth⁠
500 ml of water⁠
⁠
First, cook the sliced onion, leek and zucchini in a deep pan for about 10 minutes with extra virgin olive oil.⁠
Once slightly tender, add the water, turmeric, ginger and the organic broth cube and diced potato.⁠
Let boil, simmer and cook for about 25/30 minutes.⁠
Once cooked, puree on a food processor on high speed.⁠
⁠
ENJOY IT: